Helping to Build Healthy Bodies and Strong Minds
Gymnastics Programs
From Early Age Gymnastics to Competitive Team. we provide the best gymnastics
Our Kid Club Gymnastics Programs for Each Semester
Our Gymnastics Programs
Dynamic Gymnastics offer comprehensive programs to meet the needs of boys and girls for recreational, and competition gymnastics. Our programs are carefully developed to reach specific goals with different levels of experience. The high quality of our programs is due to our Founders/ Directors (Sorin and Teodora), our experienced staff and our excellent gym facilities and equipment.
Our staff of experienced and caring coaches tailor gymnastics instructions to the individual and their levels of ability. Whether you are starting  your first gymnastics class or have the experience of more than a few years in gymnastics, Dynamic Gymnastics has a class to fit your needs. Our classes are based on United States Gymnastics Federation standards. We work independently with each student at his or hers pace and ability level to create a personalized training plan to reach their goals. As the year progresses, our students willnrefine their gymnastics skills and achieve a feeling of accomplishment and self-confidence.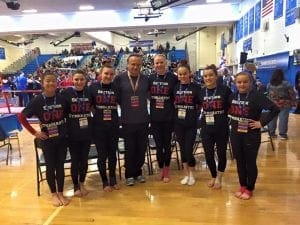 For our more advanced gymnasts, Dynamic Gymnastics can offer advanced level private lessons. One-on-one instruction that are personalized to focus on key deficiencies of the student, as well as, a conditioning regiment, Our approach will allow our more serious gymnasts the opportunity to gain more from the mentoring and skill developing from our experienced coaches and supervision and assessment from our Directors.
Dynamic Gymnastics competitive teams participates in several gymnastics competitions for intermediate and advanced gymnastics from local, state, regional, national to international.
In addition, Dynamic Gymnastics offers Summertime Fun Camp for children starting at age 3. The camp provides up to 6 weeks  of both regular day camp activities and gymnastics.
Summary of Dynamic Gymnastics Programs
Early Age Program (Ages 2 through 5)

Terrific Twos Program
Preschool Program
Kindergarten Program
Recreational Program (Ages 6 to 16+)
Boys' Classes & Girls' Classes
Team Program (Ages 6 to 16+)
Boys' Team & Girls' Team
Competitive Levels offered at Dynamic Gymnastics

Boys' Team & Girls' Team
Pre-team (Level 1,2 & 3)
Level 4, 5 & 6
Level 7, 8 & 9
Level 10
Elite
Building Healthy Bodies and Strong Minds
Visit Our Gym
Request to Visit Our Gym
Please complete the online form.
 Our Gym Programs:
Early Age Gymnastics – 15, or 16 classes per semester
Recreational Gymnastics – 16, 17, 18  or 20 classes per semester
Team Gymnastics –  16, 18 or 20 classes per semester
Gymnastic Party – one-time activity